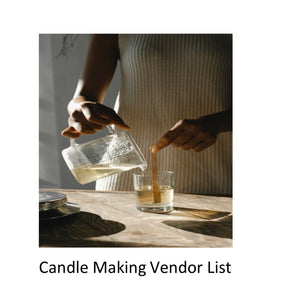 You have been thinking long and hard about getting into the candle making industry and before you waste any time, provided within this e-book is a Vendor List with active weblinks to get you started; with bonus information sections.
This e-book includes an active vendor list with over 15 vendors, along with additional basic principles to get you started on your craft and entrepreneurial journey.
Within the e-book, the following nine (9) categories are included: a Vendor List with active weblinks for 15+ vendors, BONUS Sections: Candle Industry Statistics, Candle Terminology, Types of Candles, Types of Waxes, Types of Wick Series, Candle Container Styles, Fragrances, and recommended Candle Starter Kits with active weblinks.
We are certain that your purchase of this Vendor List with active weblinks, is the first step necessary to invest in your brand, and you will be able to start your craft and/or business in no time.
PLEASE READ:
This is a thirteen (13) page digital download, link with download instructions will be sent via email shortly after you have placed your order. 
MUST BE purchased seperately from physical products.
Due to being sold in a digital source, there are absolutely NO refunds and/or exchanges.
By purchasing this digital download, you release LeneNicole Candle Co. from any/all liability relating to injuries that may occur while using or following the instructions, if applicable, in this digital download, and forfeit all rights to bring suit against LeneNicole Candle Co.