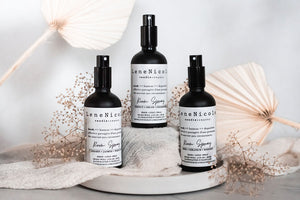 Our highly concentrated Room + Linen Sprays are the perfect add on for any home or office. Ideal for adding a crisp burst of fragrance into the air, or for abolishing common household odors.
In ten (10) soothing aromatherapy inspired scents that will be sure to convert any space into a spa-like oasis—
Coconut + Cream + Cedarwood
This blend combines rich and creamy coconut fragrance with hints of cedar wood.
BENEFITS: stress and anxiety relief
Frankincense + Myrrh
This blend combines warm dry woods with patchouli and balsam.  Myrhh and olibanum are added for exotic appeal while lingering tones of Arabian musk and sandalwood create softness.
BENEFITS: relieves stress, promotes relaxation
Lavender + Sage + Cedarwood
This blend combines herbs, lavender, and aromatic woods.  Sage, rosemary, and chamomile awaken the earthiness of lavender, while hints of sandalwood and cedar in the base are reinforced by clove, lavandin, and cedarwood essentials oils.
BENEFITS: energy cleanser, restores emotional balance
Lemon + Citrus + Lavender
This blend combines a sensual floral lavender scent with a touch of zesty lemon notes.
BENEFITS: promotes relaxation
Orange + Jasmine + Ginger
This blend combines ginger root and zesty orange peel, with hints of bergamot, jasmine, and white musk.
BENEFITS:  energy booster and awakens senses
Ozone + Sea Salt + Sandalwood
This blend combines a salty oceanic accord with a combination of dark musk and sandalwood
BENEFITS:
calming properties
Peppermint + Eucalyptus + Clove
This blend combines sweet peppermint and tingly, earthy eucalyptus for a refreshing spa-like scent.  Hints of cedar wood add depth that make this a perfect year-round fragrance.
BENEFITS: promotes relaxation, energy booster
Rose + Geranium + Rosehips 
This blend combines notes of delicate rose, jasmine, and geranium over a rosehip base in this sweet floral fragrance.
BENEFITS: promotes a sense of calm, and relaxation, aide for sleeplessness
Jasmine + Mandarin + White Tea
This blend combines notes of citrus, mandarin, and bergamot with notes of ginger and jasmine blossoms.
BENEFITS: promotes a sense of connectivity and harmony
Palo Santo + Amber + Musk
This blend combines notes of palo santo wood, amber and musk.
BENEFITS: promotes a sense of passion and energy
3oz/88ML
Black matte bottle with BLACK METAL TOP
Lasts 2-3 months
Ingredients: 

FDA approved SD Alcohol, Water, Glycerin, Propylene Glycol, Bensophenone-2 and fragrance oil

Phthalate and Paraben-Free
Products are shipped within 3-5 days and delivered via USPS
Usage + to avoid injuries—
Shake well prior to each use— spray!
Store in dark areas— keep out of direct sunlight.
WARNING: Avoid eye contact. 

Keep out of reach of children & pets, avoid direct contact with furniture or open flames. Do not ingest. 

Not recommended as a body spray.
Conduct a small spot test when spraying fabric.